DS-015 UAVCAN Drone Communication Standard
The following messages are ready for final review from the main stakeholders, and from ESC implementors/manufacturers everywhere.
ESC Messages
ESCPowerCommand
ESCPowerCmdGroup
ESCComandType
ESCFeedback
ESCFeedbackGroup
ESCStatus
ESCFailure
ESCState
ESCSignal
ESCInfo
Note: the messages can be found on the DS-015 document (linked below) on the Actuator Messages section, see below for a screenshot.
---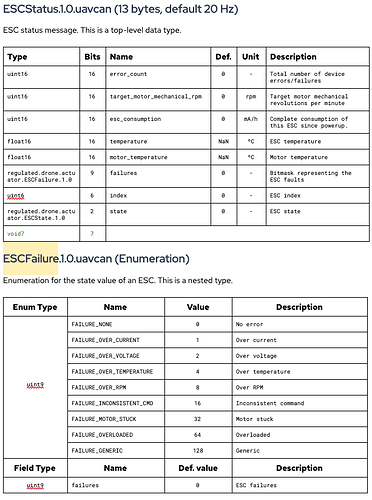 ---
What are we looking for?
Feedback regarding the messages, we think the above message list gives us enough data and control to be able to operate correctly. We are looking for feedback on fields, data rates, and anything we might be missing.
How to share feedback?
Please share your comments in this thread, or directly on the DS-015 document, clearly marking it as feedback coming from this forum post.
Where is this coming from?
The DS-015 team is meeting bi-weekly, for status updates, and we are hoping to streamline the development and decision making process involved in the spec. Please join us on the next call, or follow the forum posts for meeting minutes.
Deadline for feedback
The UAVCAN team is meeting next on September 1st, 2020 (14-days from now), the goal is to have feedback collected by then, and move to the next message group.
Resources
DS-015 group meeting minutes for August 18
DS-015 Standard Draft Document