Hey all,
I've made a simple wireshark dissector for UAVCAN/CAN v1.
It supports both CAN2.0B and CAN FD transport using SocketCAN in Linux.
People can use SLCAND to use UART based adapters.
Current features of the dissector is:
CAN ID decoding
Tail byte decoding
Message reassembly
Basic static message decoding
Very basic error checking
Current messages with static port identifier can be decoded:
Heartbeat 1.0
Access 1.0
List 1.0
NodeIDAllocationData 1.0
NodeIDAllocationData 2.0
I didn't verified for correctness, but it does check the toggle-bit in multi-frame transfers. Furthermore I'm not planning to include to all the public_regulated_data_types. If people are interested we can take a look to get it into upstream Wireshark.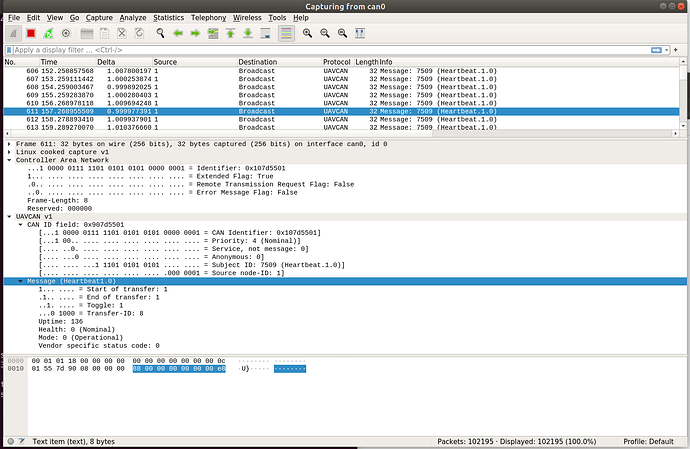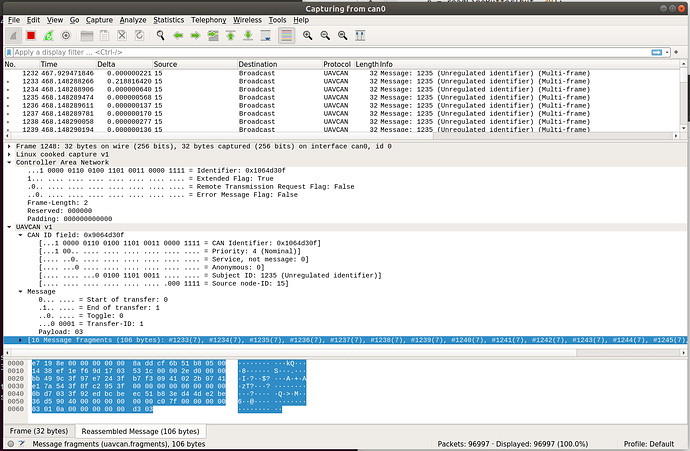 It's located here https://github.com/PetervdPerk-NXP/wireshark
The code for the dissector itself is here:
https://github.com/PetervdPerk-NXP/wireshark/blob/d2b0614246af759158c86c91563cf53155ef4c40/epan/dissectors/packet-uavcan.c